Warman
ウォーマン, Wōman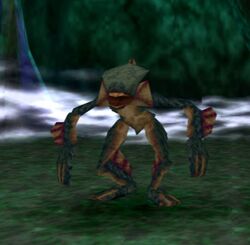 Statistics
HP
MP
ATK
567
200
181
UDF
LDF
INT
168
134
111
| SPD | AGL |
| --- | --- |
| 89 | 71 |
| EXP | G |
| 488 | 200 |
Warman (ウォーマン, Wōman) is a monster in Legend of Legaia. It is found within the Ancient Path and the Fire Path.
Warman looks much like a humanoid fish creature and is related to the Warhalf and Warfish. It has fins on the sides of its face, as well as its arms and legs. It has no eyes so it is likely that it tracks its enemies through ultrasound. Once it locates an enemy it will hop over to it and attack with swipes from its large hands. Warman also likes to use its Ultrasound technique to damage and disorient its enemy. At times the Ultrasound ability can Curse party members, preventing them from using their Ra-Seru.
Its name is a reference to the real jellyfish Man o ' War which has a similar frill on its back.
Ad blocker interference detected!
Wikia is a free-to-use site that makes money from advertising. We have a modified experience for viewers using ad blockers

Wikia is not accessible if you've made further modifications. Remove the custom ad blocker rule(s) and the page will load as expected.