Legend of Legaia Seru
Swordie
ナータ, Nāta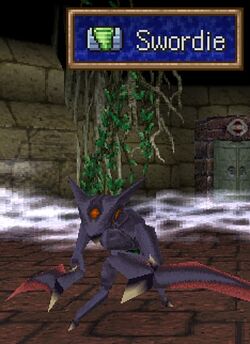 Lv. 1 Stats
HP
MP
ATK
420
100
89
UDF
LDF
INT
77
61
73
| SPD | AGL |
| --- | --- |
| 72 | 72 |
| EXP | G |
| 315 | 103 |
Swordie
ナータ, Nāta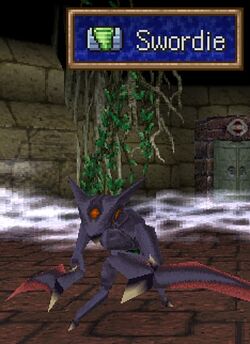 Lv. 2 Stats
HP
MP
ATK
780
120
105
UDF
LDF
INT
77
61
151
| SPD | AGL |
| --- | --- |
| 132 | 72 |
| EXP | G |
| 825 | 296 |
Swordie
ナータ, Nāta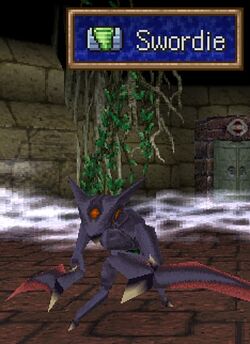 Lv. 3 Stats
HP
MP
ATK
2,780
150
260
UDF
LDF
INT
198
158
274
| SPD | AGL |
| --- | --- |
| 187 | 72 |
| EXP | G |
| 2,808 | 984 |
Swordie (ナータ, Nāta) is the first Wind Seru found in Legend of Legaia. It is first encountered in Jeremi, in the Sebucus Islands archipelago. It somewhat resembles the prehistoric Pterodactyl.
Swordie is a Wind Seru that can create razor-sharp blades of wind by propelling its wings at high speed. It will attack enemies by creating these blades of wind or by running up to enemies and slashing with its sharp wings if it decides to get physical.
Summon Spell
Edit
Upon absorption, Swordie will attack with the Sonicsizer ability, in which it charges up with static electricity and rotates its wings vertically to create multiple blades of wind that slice the target to bits.
Main article: Sonicsizer
Swordie, in Lv.3, gives the same amount of Exp. of Vera, also in Lv.3.