Stone Lizard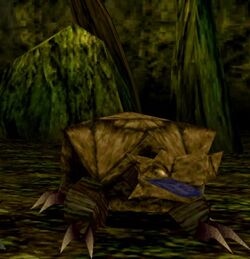 Statistics
HP
MP
ATK
671
100
227
UDF
LDF
INT
320
256
162
| SPD | AGL |
| --- | --- |
| 65 | 48 |
| EXP | G |
| 666 | 225 |
Stone Lizard is a monster in Legend of Legaia. It can be found within the Fire Path underneath the caverns of Octam.
Stone Lizard is the first of its type encountered in the Legaia continent; its more powerful relatives being the Rock Lizard and the Scale Lizard. The Stone Lizard's body is low to the ground (though not low enough for High kicks to miss) but can stand on its hind legs to become as tall as an adult male. Due to its bulk it is very slow - however its defense is high and its attacks are powerful.
Being as bulky as it is, the Stone Lizard and any of its other two varitations, can actually be hit twice by a single Turning Laser attack from a Theeder, making a quick and easy kill on this monster simple.
Ad blocker interference detected!
Wikia is a free-to-use site that makes money from advertising. We have a modified experience for viewers using ad blockers

Wikia is not accessible if you've made further modifications. Remove the custom ad blocker rule(s) and the page will load as expected.