Legend of Legaia Seru
Spoon
スプーン, Supūn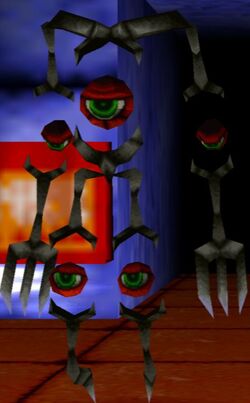 Lv. 1 Stats
HP
MP
ATK
1,450
60
108
UDF
LDF
INT
101
80
126
| SPD | AGL |
| --- | --- |
| 108 | 80 |
| EXP | G |
| 407 | 375 |
Spoon
スプーン, Supūn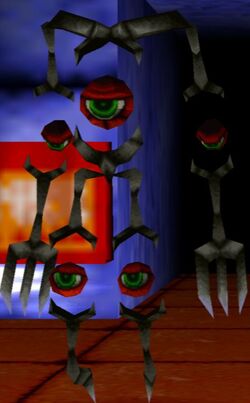 Lv. 2 Stats
HP
MP
ATK
1,850
90
118
UDF
LDF
INT
181
144
238
| SPD | AGL |
| --- | --- |
| 188 | 100 |
| EXP | G |
| 2,397 | 781 |
Spoon
スプーン, Supūn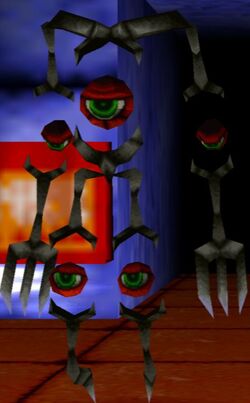 Lv. 3 Stats
HP
MP
ATK
2,450
120
144
UDF
LDF
INT
211
168
308
| SPD | AGL |
| --- | --- |
| 228 | 128 |
| EXP | G |
| 4,668 | 1,100 |
Spoon (スプーン, Supūn) is a Light Seru first encountered in the Mist-infested levels of Sol Tower in Legend of Legaia. It has the most powerful healing magic of all normal Seru.
Spoon looks like an amalgam of pieces of silverware, hence its name - though it resembles forks more than spoons. Spoon is able to levitate and its body attaches and detaches at a set pace, however it prefers to walk toward its enemies rather than float toward them. Spoon will attack by jamming its sharp appendages into opponents, but can also increase its defense or heal itself and other Seru on the field during battle.
Summon Spell
Edit
Upon absorption, Spoon will use the Holy Eyes ability when summoned, which heals the HP of all party members as well as status effects depending on its level. Spoon is the last Light Seru found and as such wields the most powerful healing magic of all Seru (with the exception of Horn).
Main article: Holy Eyes
Ad blocker interference detected!
Wikia is a free-to-use site that makes money from advertising. We have a modified experience for viewers using ad blockers

Wikia is not accessible if you've made further modifications. Remove the custom ad blocker rule(s) and the page will load as expected.