Spikefish
フグドリアン, Fugudorian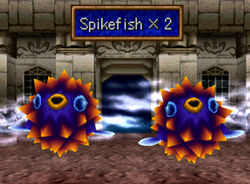 Statistics
HP
MP
ATK
177
77
221
UDF
LDF
INT
154
154
86
| SPD | AGL |
| --- | --- |
| 77 | 77 |
| EXP | G |
| 358 | 55 |
Spikefish (フグドリアン, Fugudorian) is a monster in Legend of Legaia. It is found within the Mist-covered town of Jeremi.
Spikefish is a large, flying fish that appears to be based off of the puffer fish. Its body is hollow and filled with air, accounting for its ability to fly, but it can also be found in water. It moves about by flapping its pectoral fins up and down along with its caudal fin, which flaps from side to side. Spikefish attacks by smashing its barbs into prey. However, it can also choose to inject poison by elongating the barbs from its body and jamming them into its prey. This ability is named Fish Poison.
Ad blocker interference detected!
Wikia is a free-to-use site that makes money from advertising. We have a modified experience for viewers using ad blockers

Wikia is not accessible if you've made further modifications. Remove the custom ad blocker rule(s) and the page will load as expected.