Resurrector
マージフルリザレクション, Māshifuru Rizarekushiyon (Merciful Resurrection)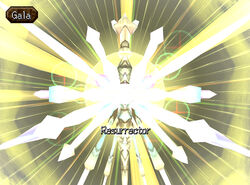 | | |
| --- | --- |
| Element | |
| MP Cost | 200 |
| Target(s) | Party |
| Lv. 3 Effect | Lv. 5 Effect |
| --- | --- |
| Full Heal / Cure all Status | Full Heal / Cure all Status |
| Lv. 7 Effect | Lv. 9 Effect |
| Full Heal / Cure all Status | Full Heal / Cure all Status |
Resurrector (マージフルリザレクション, Māshifuru Rizarekushiyon , lit. "Merciful Resurrection") is a summon spell in Legend of Legaia. It is used by the Ra-Seru, Horn.
During the Resurrector summon, Horn arises from a bright shining light and fans out its spikes. Out of these spikes, a radiant energy surrounds the entire field and heals all party members back to full health, as well as cures any status ailments they may be afflicted with.
Ad blocker interference detected!
Wikia is a free-to-use site that makes money from advertising. We have a modified experience for viewers using ad blockers

Wikia is not accessible if you've made further modifications. Remove the custom ad blocker rule(s) and the page will load as expected.