Present Play
プレゼントプレイ
Purezento Purei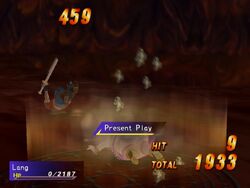 | | |
| --- | --- |
| User(s) | Marienne |
| Art Class | Hyper Art |
| Variable Type | {{{v type}}} |
| Art Blocks | {{{art blocks}}} |
| AP Cost | 8 AP |
| AP Gain | {{{ap gain}}} |
| MP Cost | {{{mp cost}}} |
| Hits | 4 |
| Effect | {{{effect}}} |
| Commands | {{{commands}}} |
| Target(s) | {{{target}}} |
Present Play (プレゼントプレイ, Purezento Purei) is an Art used by Marienne.
Marienne uses the Present Play Hyper Art randomly, although she often alternates it with Elegant Royale. In performing this attack, Marienne jumps in front of her opponent and curls her body into a ball. She then hits her opponent three times with her body before ending the combo by body splashing the target.
Ad blocker interference detected!
Wikia is a free-to-use site that makes money from advertising. We have a modified experience for viewers using ad blockers

Wikia is not accessible if you've made further modifications. Remove the custom ad blocker rule(s) and the page will load as expected.