Legend of Legaia Seru
Nighto
ナット, Natto (Nut)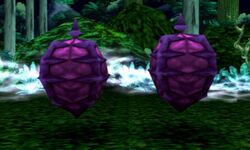 Lv. 1 Stats
HP
MP
ATK
234
60
68
UDF
LDF
INT
40
50
90
| SPD | AGL |
| --- | --- |
| 52 | 20 |
| EXP | G |
| 195 | 45 |
Nighto
ナット, Natto (Nut)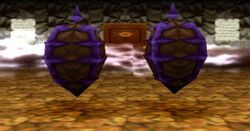 Lv. 2 Stats
HP
MP
ATK
288
120
80
UDF
LDF
INT
57
64
101
| SPD | AGL |
| --- | --- |
| 72 | 20 |
| EXP | G |
| 336 | 50 |
Nighto
ナット, Natto (Nut)
250px
Lv. 3 Stats
HP
MP
ATK
1,605
180
268
UDF
LDF
INT
167
204
216
| SPD | AGL |
| --- | --- |
| 209 | 20 |
| EXP | G |
| 3,402 | 788 |
Nighto (ナット, Natto, lit. "Nut") is the first Dark Seru found in Legend of Legaia.
Nighto is a levitating Dark Seru that somewhat resembles a Cape gooseberry. Its inner body is a small head with a large mouth and tiny arms, which is protected on all sides by a hard outer shell. Nighto will levitate toward its enemies and attack with its protective shell, either by smacking its enemy with it or drilling into its enemy's vital areas. The shell also enables Nighto to have superb defensive abilities. Nighto is also able to attack with psychic energy beams, as well as ultrasonic waves that can curse opponents.
Summon Spell
Edit
Upon absorption, Nighto will attack with Hell's Music when summoned. It shrieks at a target and unleashes ultrasonic waves which have a chance of confusing the enemy or annihilating it outright. However, it is very possible that the attack will do nothing.
Main article: Hell's Music
Nighto's summon spell can be used on the boss Berserker to confuse or annihilate it easily.
Nighto can instantly kill enemies and resembles a Physalis. In Japanese tradition, Physalis seeds are given as offerings to the dead as part of the Obon festival.
Ad blocker interference detected!
Wikia is a free-to-use site that makes money from advertising. We have a modified experience for viewers using ad blockers

Wikia is not accessible if you've made further modifications. Remove the custom ad blocker rule(s) and the page will load as expected.