Mystic Care
ミスティックケア, Misutikku Kea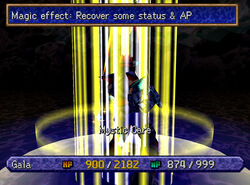 | | |
| --- | --- |
| Element | |
| MP Cost | 6 |
| Target(s) | Single party member |
Lv. 3 Effect
Lv. 5 Effect
Cure Venom
Cure Rot/Venom
Lv. 7 Effect
Lv. 9 Effect
Cure Rot/Numb/Venom
Recover some Status

& AP
Mystic Care (ミスティックケア, Misutikku Kea) is a summon spell in Legend of Legaia. It is used by the Light Seru, Vera.
At the start of the summon, a small circle of light floats in front of the one who cast the spell and then breaks open to reveal Vera. Vera's body then glows with a golden light before Vera releases a pillar of energy that surrounds the party member in front of it.
Mystic Care is the first healing spell found, and therefore the weakest.
It is the only healing spell that only cures a single party member
This healing spell requires the least amount of MP out of any summon spell
Ad blocker interference detected!
Wikia is a free-to-use site that makes money from advertising. We have a modified experience for viewers using ad blockers

Wikia is not accessible if you've made further modifications. Remove the custom ad blocker rule(s) and the page will load as expected.