Kabuki Rat
カブキネズミ, Kabuki Nezumi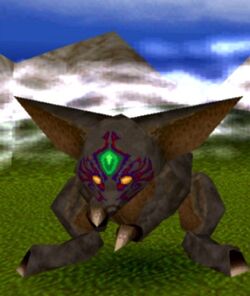 Statistics
HP
MP
ATK
349
0
79
UDF
LDF
INT
64
51
51
| SPD | AGL |
| --- | --- |
| 79 | 69 |
| EXP | G |
| 378 | 140 |

Kabuki Rat (カブキネズミ, Kabuki Nezumi) is a monster in Legend of Legaia. It can be found within the southern fields of the Sebucus Islands as well as in the town of Jeremi when the Mist is covering it.
Kabuki Rat is a rat with strange markings on its face and a green jewel on its head. It is far larger than a typical rat, being slightly larger than the average small child. The Kabuki Rat can attacking by headbutting as well as by using its claws and feet. It is a very sneaky animal and will use Steal to pilfer items from party members. If this happens, it is recommended to defeat Kabuki Rat right away, as it will sometimes run off with the stolen item or accessory that cannot be recovered afterward.
Ad blocker interference detected!
Wikia is a free-to-use site that makes money from advertising. We have a modified experience for viewers using ad blockers

Wikia is not accessible if you've made further modifications. Remove the custom ad blocker rule(s) and the page will load as expected.