Hyper Wave
覇皇邪遠殺波, ハオウジャエンサツパ
Haou Jaen Satsupa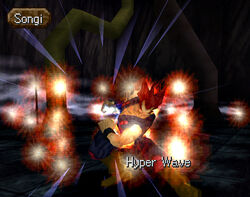 | | |
| --- | --- |
| User(s) | Songi |
| Element | |
| Effect | Damage |
| Target | Single |
Hyper Wave (覇皇邪遠殺波, ハオウジャエンサツパ, Haou Jaen Satsupa, lit. "Supreme Emperor Evil Killing Wave From Afar") is a technique performed by Songi while in his base form.
Hyper Wave is Songi's special attack that he uses while fighting Gala one-on-one inside Zeto's Dungeon. To perform this attack, Songi cups his hands and draws them back to his side while concentrating his Seru's energy into a single point. Songi then thrusts his hands forward to shoot out a powerful sphere of energy.
Ad blocker interference detected!
Wikia is a free-to-use site that makes money from advertising. We have a modified experience for viewers using ad blockers

Wikia is not accessible if you've made further modifications. Remove the custom ad blocker rule(s) and the page will load as expected.