Hell's Music
ヘルシンフォニー, Heru Shinfonī
(Hell Symphony)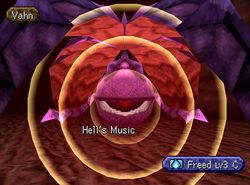 | | |
| --- | --- |
| Element | |
| MP Cost | 13 |
| Target(s) | Single |
Lv. 3 Effect
Lv. 5 Effect
Kill or confuse enemy
(49.21% confuse)
(7.03% death)
Kill or confuse enemy
(56.25% confuse)
(8.03% death)
Lv. 7 Effect
Lv. 9 Effect
Kill or confuse enemy
(65.62% confuse)
(9.37% death)
Kill or confuse enemy
(78.75% confuse)
(11.25% death)
Hell's Music (ヘルシンフォニー, Heru Shinfonī, lit. "Hell Symphony") is a summon spell in Legend of Legaia. It is used by the Dark Seru, Nighto.
At the start of the summon, a dark portal forms out of the ground and shoots out a solid rock. Out of the rock bursts the Seru, Nighto, which shrieks and then closes up in its shell. Soon after, Nighto opens up and makes a strange sound from its mouth, unleashing sound waves that target a single enemy. With bad luck, the sound waves have no effect on the enemy. However, they can also charm the enemy or instantly annihilate it.
Hell's Music can confuse or instantly kill a single target. However, it can also have no effect and account for a wasted turn as it does no damage
As Hell's Music levels up the chances of confusion or annihilation will rise
Hell's Music can instantly confuse or kill the boss Berserker
Ad blocker interference detected!
Wikia is a free-to-use site that makes money from advertising. We have a modified experience for viewers using ad blockers

Wikia is not accessible if you've made further modifications. Remove the custom ad blocker rule(s) and the page will load as expected.