Gomboo
ゴンブー, Gonbū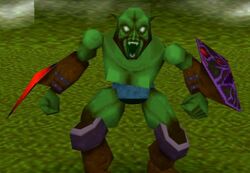 Statistics
HP
MP
ATK
250
20
55
UDF
LDF
INT
68
68
31
| SPD | AGL |
| --- | --- |
| 52 | 108 |
| EXP | G |
| 192 | 68 |
Gomboo (ゴンブー, Gonbū) is a monster in Legend of Legaia. It is related to the Gobu Gobu, but stronger and faster.
The Gomboo is a species of creature that roams Legaia's plains looking for people to rob and kill. It appears to be somewhat intelligent as it wears boots and a loincloth, in addition to a red blade attached to its forearm and a small round shield made of stone. Gomboos have sharp fangs, quick speed, and are quite mischievous, seen by their manner of laughing after robbing a victim of a precious good. Their attacks are not too dangerous, but it is best to kill them quickly before they run off with a valuable accessory, item, or weapon from your inventory.
Ad blocker interference detected!
Wikia is a free-to-use site that makes money from advertising. We have a modified experience for viewers using ad blockers

Wikia is not accessible if you've made further modifications. Remove the custom ad blocker rule(s) and the page will load as expected.