Devil Pump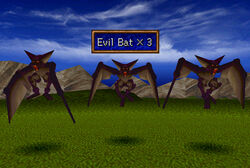 Statistics
HP
MP
ATK
390
0
35
UDF
LDF
INT
54
42
0
| SPD | AGL |
| --- | --- |
| 53 | 64 |
| EXP | G |
| 42 | 25 |
| | |
| --- | --- |
| Locations | Debug Menu |
| Steal | |
| Item Drop | |
| Abilities | |
Evil Bat is a monster in Legend of Legaia that was scrapped from the main game. It can only be fought by entering the debug menu.
Evil Bat looks like a vampire bat, but much larger and covered in purple fur. It has two large legs that kick in the air while it flaps its wings to stay airborne. Evil Bat attacks by slamming its wings at its enemy as well as by biting or rapidly kicking with its two legs.
Ad blocker interference detected!
Wikia is a free-to-use site that makes money from advertising. We have a modified experience for viewers using ad blockers

Wikia is not accessible if you've made further modifications. Remove the custom ad blocker rule(s) and the page will load as expected.