Deadly Promise
プロミス・デス, Puromisu・Desu
(Promise Death)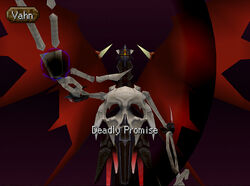 | | |
| --- | --- |
| Element | |
| MP Cost | 200 |
| Target(s) | All |
| Lv. 3 Effect | Lv. 5 Effect |
| --- | --- |
| Annihilation | Annihilation |
| Lv. 7 Effect | Lv. 9 Effect |
| Annihilation | Annihilation |
Deadly Promise (プロミス・デス, Puromisu・Desu, lit. "Promise Death") is a summon spell in Legend of Legaia. It is used by Songi's combination Ra-Seru / Sim-Seru, Jedo.
At the beginning of Deadly Promise, Jedo levitates out of a dimensional portal that appears out of thin air. He then unfolds his wings to reveal a skeleton-like body and summons forthe a large scythe that he grabs and raises over his head before slashing through all enemies on the field. This causes the enemies to explode and die instantly.
Deadly Promise can only be used after obtaining the Dark Stone from West Voz Forest and turning it into a Dark Talisman by giving it to Zalan in Jeremi.
Deadly Promise can instantly kill all random battle enemies, Seru or otherwise, as well as the hidden boss Lapis. However, it does not instantly kill boss enemies. When used against a boss enemy it will usually do half the damage of other Ra-Seru summons.
At the end of Deadly Promise, the image of the Grim Reaper can be seen in the shards of the fallen enemies
Ad blocker interference detected!
Wikia is a free-to-use site that makes money from advertising. We have a modified experience for viewers using ad blockers

Wikia is not accessible if you've made further modifications. Remove the custom ad blocker rule(s) and the page will load as expected.