Curry Devil
デビル, Debiru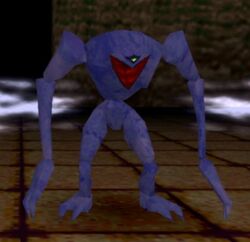 Statistics
HP
MP
ATK
666
666
166
UDF
LDF
INT
66
66
74
| SPD | AGL |
| --- | --- |
| 66 | 48 |
| EXP | G |
| 666 | 333 |
Curry Devil (デビル, Debiru) is a monster in Legend of Legaia. It is a powerful creature that can be found roaming the Mist-infected town of Octam.
Curry Devil looks like a gigantic yeti. It has two relatives - the Verial and the Lucifer which are both more deadly than it. To reach its prey, Curry Devil leaps toward them with its powerful legs and attacks with strong physical attacks using its long arms. An even more deadly attack is the Curry Devil's Cross Beam ability, in which it shoots a laser beam out of its mouth and maneuvers it across the ground underneath its opponent, causing the ground to blow up moments after.
Ad blocker interference detected!
Wikia is a free-to-use site that makes money from advertising. We have a modified experience for viewers using ad blockers

Wikia is not accessible if you've made further modifications. Remove the custom ad blocker rule(s) and the page will load as expected.