Caruban Lv2
カルバヌス, Karubanusu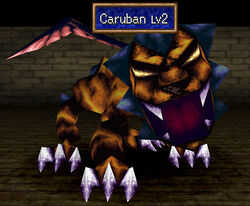 Statistics
HP
MP
ATK
4,096
300
208
UDF
LDF
INT
280
252
240
| SPD | AGL |
| --- | --- |
| 168 | 98 |
| EXP | G |
| 2,000 | 1,800 |
Boss Theme

---

Problems listening to this file? See media help.

Caruban Lv2 (カルバヌス, Karubanusu) is a mini-boss in Legend of Legaia. Caruban Lv2 is actually an imitation form used by a Rogue inside Rogue's Tower as it battles the Ra-Seru heroes.
Caruban Lv2 is an incredibly easy boss. All of its attacks do next to no damage and it is less of a threat than the random encounter enemies inside Rogue's Tower. The battle can be won by repeatedly using the Auto command and attacking until Caruban Lv2 dies, which should happen at the end of the first round.
Ad blocker interference detected!
Wikia is a free-to-use site that makes money from advertising. We have a modified experience for viewers using ad blockers

Wikia is not accessible if you've made further modifications. Remove the custom ad blocker rule(s) and the page will load as expected.