Bull Horns
螺旋双掌打, らせんそうしょうだ
Rasensoushouda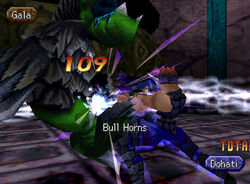 | | |
| --- | --- |
| User(s) | Gala |
| Art Class | Normal Art |
| Art Blocks | 5 |
| AP Cost | 30 |
| Commands | ← ↑ → ↓ ← |
---

Problems listening to this file? See media help.

Bull Horns (螺旋双掌打, らせんそうしょうだ, Rasensoushouda, lit. "Spiral Dual Palm Strike") is an Art used by Gala.
Gala is able to learn this attack once he has 5 Art blocks available. In performing this attack, Gala spins left and roundhouses the opponent in the knee with his right leg before planting it behind him and giving the enemy a high kick with his left leg. Then, when his left leg hits the floor he lunges forward and strikes the enemy with a straight punch from both arms at the same time.
Ad blocker interference detected!
Wikia is a free-to-use site that makes money from advertising. We have a modified experience for viewers using ad blockers

Wikia is not accessible if you've made further modifications. Remove the custom ad blocker rule(s) and the page will load as expected.