Biron Rage
ガラ超連技, ガラちょうれんわざ
Gara Chourenwaza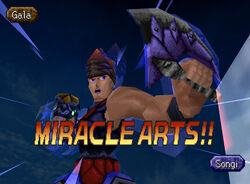 | | |
| --- | --- |
| User(s) | Gala |
| Art Class | Miracle Art |
| Art Blocks | 9 |
| AP Cost | 99 |
| Commands | → → ↓ ↑ ↓ ↑ ↓ ← ← |
Biron Rage (ガラ超連技, ガラちょうれんわざ, Gara Chourenwaza, lit. "Gala Super Combo") is Gala's Miracle Art. It is a combination of a number of normal Arts, followed by Gala's Hyper Art Thunder Punch.
Gala is able to use Biron Rage once he has all 9 Art blocks available. It is a combination of the following Arts: Back Punch, Side Kick, Ironhead, Electro Thrash, Battering Ram, and Thunder Punch.
The english name of the Art is the only one that doesn't bear the name of the character, unlike Vahn's Craze and Noa's Ark.
Ad blocker interference detected!
Wikia is a free-to-use site that makes money from advertising. We have a modified experience for viewers using ad blockers

Wikia is not accessible if you've made further modifications. Remove the custom ad blocker rule(s) and the page will load as expected.