Legend of Legaia Seru
Barra
バーラ, Bāra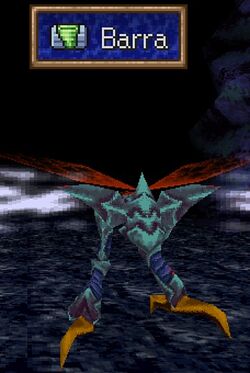 Lv. 1 Stats
HP
MP
ATK
2,044
100
330
UDF
LDF
INT
358
286
324
| SPD | AGL |
| --- | --- |
| 202 | 101 |
| EXP | G |
| 2,070 | 781 |
Barra
バーラ, Bāra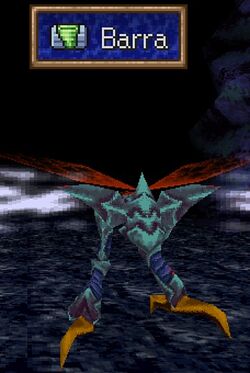 Lv. 2 Stats
HP
MP
ATK
2,442
200
392
UDF
LDF
INT
374
298
342
| SPD | AGL |
| --- | --- |
| 220 | 101 |
| EXP | G |
| 2,745 | 921 |
Barra
バーラ, Bāra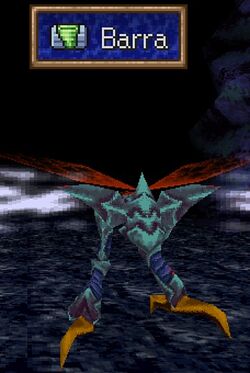 Lv. 3 Stats
HP
MP
ATK
2,725
350
397
UDF
LDF
INT
396
316
347
| SPD | AGL |
| --- | --- |
| 231 | 101 |
| EXP | G |
| 3,825 | 1,000 |
Barra (バーラ, Bāra) is the third Wind Seru found in Legend of Legaia.
Unsurprising for a flying Seru, Barra is first found within Zora's Floating Castle. It has a small green body with transparent wings on its back and large talons that it uses to slash its enemies with. Barra can use its wings to create sharp wind blades that can cut through multiple enemies at once with surprising speed and accuracy.
Summon Spell
Edit
Upon being summoned, Barra dives down from the sky and picks up its target with its powerful talons, lifting if up into the air. Barra flies for a short while before diving down toward the earth with amazing speed, dropping the target onto the ground for massive damage.
Main article: Hell's Dive
Ad blocker interference detected!
Wikia is a free-to-use site that makes money from advertising. We have a modified experience for viewers using ad blockers

Wikia is not accessible if you've made further modifications. Remove the custom ad blocker rule(s) and the page will load as expected.