Acid Slime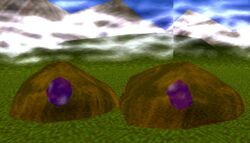 Statistics
HP
MP
ATK
963
25
298
UDF
LDF
INT
412
404
11
| SPD | AGL |
| --- | --- |
| 100 | 72 |
| EXP | G |
| 1,161 | 388 |
Acid Slime is a monster in Legend of Legaia. It can be found on the world map in Karisto Kingdom around the areas of Sol Tower and Buma.
Acid Slime is the strongest monster in the slime family (which include Green Slime and Oak Slime). It has a special attack called Melt Spray that targets one party member and decreases all of its stats.
Ad blocker interference detected!
Wikia is a free-to-use site that makes money from advertising. We have a modified experience for viewers using ad blockers

Wikia is not accessible if you've made further modifications. Remove the custom ad blocker rule(s) and the page will load as expected.